Rural communities in all parts of Canada and the United States have spent the last year struggling with the lack of investment in rural internet infrastructure to remain connected during the pandemic. While governments in both countries have endeavoured to provide solutions to address the lack of suitable, companies like Elon Musk's SpaceX Starlink satellite network bring real connectivity to those communities right now. 
In Canada, SpaceX received near the end of 2020 its Basic International Telecommunications Services (BITS) authorization from the CRTC and regulatory approval to offer the services from ISED (Innovation, Science and Economic Development Canada.) This approval meant the company could begin its rollout (albeit limited) to its selected beta testers.
During the initial trials of the Starlink internet service, the company has indicated that users can expect speeds of 50 to 150 Mbps with a latency of between 20 to 44ms. Given the challenges that rural internet users face, these speeds are a major step forward into the 21 century and bridge the urban-rural divide without having to wait years for other solutions to arise.
Based on the information provided on the company's website, the service is priced at $129.99/mo CAD. This monthly price, however, doesn't account for the cost of the equipment which is a further $649.00 plus shipping and taxes. While to urban users the cost of the service much comes as a bit of a shock, given the lack of other options and the data capped/speed ones currently on the market, this service couldn't have come sooner.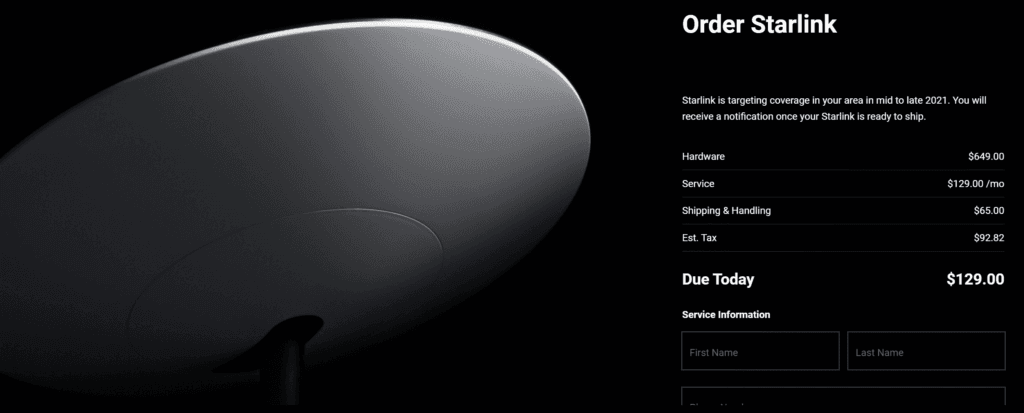 According to SpaceX, while the service doesn't boast truly earth-shattering speeds, the company intends with the expansion of their satellite network to deliver all users a system that can truly handle bandwidth-intensive platforms like online gaming. That being said, beta testers of the platform have reported that the current higher latency and albeit infrequent outages make it a bit of a challenge. In a recent Tweet by the SpaceX founder Elon Musk, he intends to double the speed to over 300 mbps by the end of 2021 and roll out his service to the public globally not just beta testers.
Our team is working to obtain a review unit to get a hands-on evaluation of the service in the coming weeks and will share our findings when we get our hands on the unit. In the meantime, you can get information about the Starlink internet service at the company's website and pre-order here.