Finding a high-capacity, fast and in-expensive USB flash drive can be a challenge. The Kingston DataTraveler® 128GB Kyson is marketed as a high-performance, USB Type-A flash drive with fast transfer speeds and a convenient capless design. It's touted as a dependable flash drive that includes a 5-year warranty. But is it worth the hype? Read on.
Design
The Kingston Data Traveler Kyson flash drive is sturdy. The USB connection is protected from some elements but is not waterproof. The case loop makes it easy to attach to a set of keys or lanyards and is very lightweight. This is a capless design and supports USB-A-type connections within a metal-style enclosure.
Features
This USB-A flash drive supports USB 2.0, 3.0, 3.1 and 3.2. It is compatible with Windows 10, 8, 8.1, Mac OS v10, Linux 2.6+ and Chrome OS. We verified compatibility and overall identified no glaring issues. With the USB-A type connection, you are limited to mostly desktop/laptop use cases without an adapter. The device boasts speeds of up to 200 MB/s (read) and 60 MB/s (write.)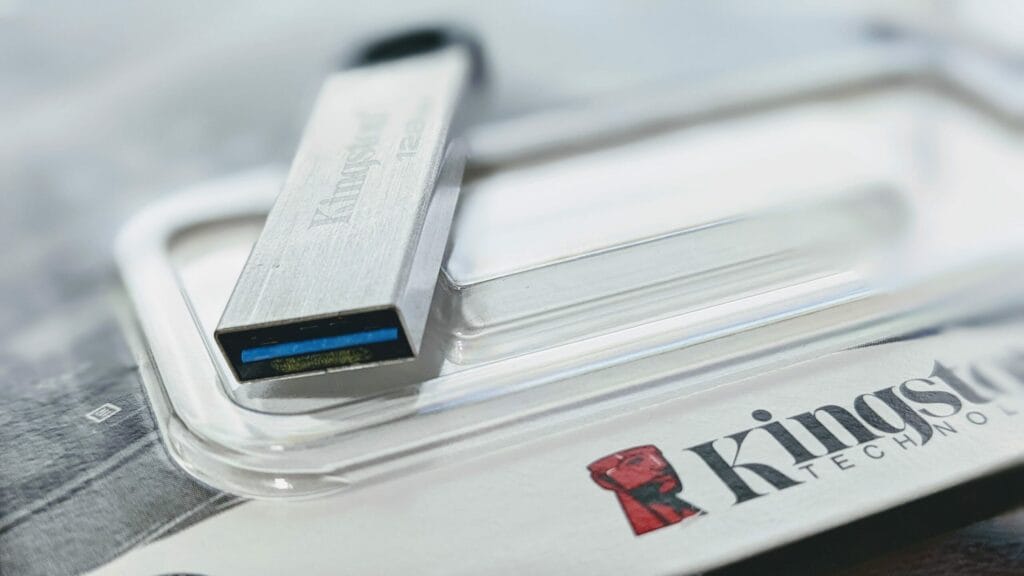 Performance
Given this device supports up to USB 3.2, we were expecting decent transfer speeds that were more in line with the device's specifications. This is where we believe the device fell short.
According to the product specification, the read speed should be up to 200 MB/s. We could not replicate these in our tests. Our speeds ranged between 160.14MB/s to 164.53 MB/s, even after multiple attempts on different devices. However, regarding the advertised 60 MB/s write speed, we could produce write speeds of 51.43 MB/s to 51.87 MB/s. This was much more in line with the product specs. If you are looking for high-performance power, this should not be your first choice.
Value
This product fits somewhere on the lower end when comparing this device and its performance to other in-market devices. This is not because we believe it's inherently poor value, but because the focus appears to have been on capacity, not achieving peak performance. We believe that a flash drive with this capacity only tips the balance if a long warranty is of significant importance to you.
Price
The Kingston DataTraveler Kyson® 128 GB is competitively priced. While it varies based on the capacity, the 128GB unit we covered in this review appears to be in the $22-30USD range. This makes it a good deal and well in line with other competitors. There are other options in this category, but they sacrifice the warranty or are significantly larger (physical terms.) We believe the price might be on the higher end of the lower-end devices but well-priced.
The Verdict
We believe that this is a good, compact, value-oriented flash drive that delivers average performance. We also believe that it will perform well for most average users but should not be the first choice for high-performance applications. For music, pictures or document transfers, it will work well, and most users won't notice the sluggish performance. If you plan to use the drive for large file backup or video transfers, we'd recommend other devices like its sister device, the Kingston DataTraveler 80.
Update: 04 Jan 2020 – Adjusted our performance rating to reflect changes in our evaluation criteria.