Getting great Wi-Fi coverage and making the most of your home or small business Wi-Fi connection can be hard. With the variety of different wireless router options and now a whole slew of Wi-Fi 6 products hitting the market, there are a plethora of options to kill those Wi-Fi dead zones. The Linksys Atlas Pro 6 is one of the many mesh WiFi router system options that claim to provide massive capacity for videos and gaming while providing improvements in coverage that only a new Wi-Fi 6 router can provide.
First impressions aren't everything
Out of the box, the Atlas Pro 6 looks like just about every other wireless router you've ever seen. It's white, comes with a bunch of cables and is underwhelming visually. But for what it lacks in its visual appearance, it certainly makes up for in pure hardware prowess.
Each pod of the system is totally versatile and has 4 hardwire ethernet ports for connectivity which brings it into a league of its own. These four ethernet ports allow for devices that could benefit from ethernet connections the ability to connect faster and game consoles to take advantage of the lower latency with a wired connection. While the main pod will suffer from a lack of ports, the points will certainly compensate.
The included instructions make it easy to set up the router and point out of the box. Thankfully unlike some similar systems, it doesn't much matter which point you choose to do which (very versatile.) However, unlike competitors' systems (Google Wi-Fi), it does matter that you use the Linksys Wi-Fi App for setup, which is confusing for advanced configurations.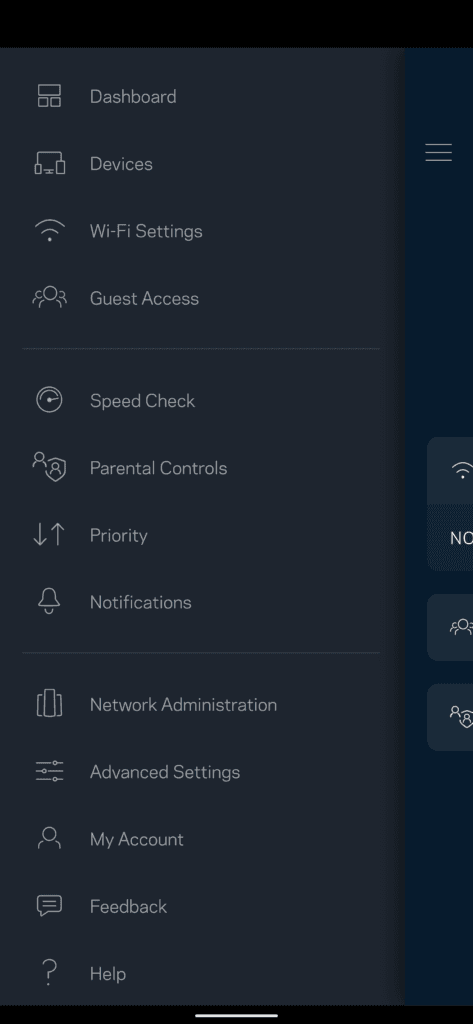 801.11AX means major speed boosts
In the realm of real-world speed, this router is a giant leap for wireless routers everywhere. With Wi-Fi 6, we regularly reached speeds of over 500mbps with peak speeds reading 920mbps (down) and 540mbps (up). Compared to systems we've tested on the 801.11ac spectrum, this Wi-Fi 6 router is a game-changer if your device can support it. The good news is, that most new laptops/smartphones are coming on board to take advantage of the giant improvements in speed.
We recognize that speed isn't everything when it comes to Wi-Fi. In terms of range, we noticed coverage in our tests that we could reliably get 802.11n / ac coverage as far as 20% further with the two pod configuration. This meant that while we weren't able to achieve top speeds or even connect to the 802.11AX bands, we could still get coverage where we didn't think previously possible.
Early days for WiFi 6
Given that Canada and the United States are only recently opening up the airwaves to the more potent 6 GHz spectrum, there is still to come for Wi-Fi 6 (or 6E.) The Atlas Pro 6 during our testing suffered little a few hiccups (the same ancillary pod lost connection to the main) but otherwise was reliable. Given the lack of widespread deployment of 802.11AX routers, we benefit from limited interference and diversity of channel availability.
Should you upgrade?
If you have gigabit internet speeds at home, suffer from dead zones or like to have cutting-edge equipment then, yes. As fibre internet services become more mainstream, this will be the way forward, and the necessity of this technology will become more and more relevant.
Right now, this device is priced at $429.99 CAD or $499 USD, which, in our opinion, is high. This seems to be primarily based on the lack of general availability of Wi-Fi 6 mesh routers and is likely to come down as the technology becomes more available. Overall, we believe that it's worth the money to upgrade in particular if you've got a fibre internet connection.