When getting the maximum performance and the maximum speed on Wifi matter, there are only a few devices like the AmpliFi Alien that come to mind. Almost every single WiFi system we've reviewed claims to have outstanding theoretical speeds or outstanding range, but few actually deliver or even come close to their stated performance. When we first laid eyes on the Alien system, we thought we might be in for more of the same overstated claims with some creatively re-packaged hardware. This was thankfully not the case, Ubiquiti really made something that looks cool and has absolutely killer performance, so let us dig into our AmpliFi Alien router review.
AmpliFi Alien Mesh is more than just a WiFi router
Something that becomes clear right out of the box is that this whole home wifi system isn't just your average third-party wifi system. Everything from the sleek black finish of the box, to the intricately placed cabling and the matte black design of the router/point, says high performance and premium.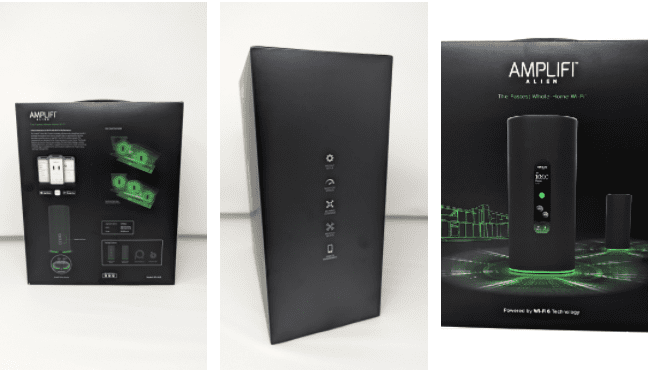 Most systems we've reviewed spent all sorts of time trying to market additional services and pay-for-use services (like network security or anti-virus tools) which aren't needed and make them feel cheap. AmpliFi however, doesn't do that and there are no additional subscriptions or service plans to buy.
Out of the box is AmpliFi's solution to public WiFi woes called "Teleport". This included service, allows you to use your home Wifi as a VPN when travelling away from home. This service runs presently on Android and iOS devices but doesn't yet support other platforms. Users simply have to enable remote access using a code generated on the mobile app while home and enter it into the teleport portal on their intended devices.
AmpliFi Alien WiFi 6 designed for gaming and ready for almost eveything else
This device truly exists in the absolute top-tier of routers and the performance (at least for now) is in that same tier. This is a tri-band Wi-Fi 6 router with support for 5 GHz 8×8 Wi-Fi 6 radio (Max. aggregate speed: 4804 Mbps); 2.4 GHz 4×4 Wi-Fi 6 radio (Max. aggregate speed: 1148 Mbps)
5 GHz 4×4 Wi-Fi 5 radio (Max. aggregate speed: 1733 Mbps); 160 MHz bandwidth and DFS channels.
The faster 160MHz and DFS channels are disabled by default (availability varies depending on the country) and we recommend that you don't enable them unless absolutely necessary.
Wi-Fi performance at long range is quite good and close/medium range performance is improved by approx. 20% compared to similar systems. That being said, performance appears to weigh at particularly longer rangers based on the antenna alignment in the device. Generally, we were able to achieve speeds of nearly 1Gbps but this was influenced as expected by proximity to the device/point, Wi-Fi capabilities (i.e. Wi-Fi 6 capable devices) and general network conditions.
Throughput over a wired connection was as expected with no major pitfalls. The lack of multi-wan link aggregation was disappointing but we don't expect that this will impact many users. If you require some sort of link-aggregation for performance/reliability reasons this is just something this device doesn't support and you should consider other options. We still think this is something that should be generally overlooked.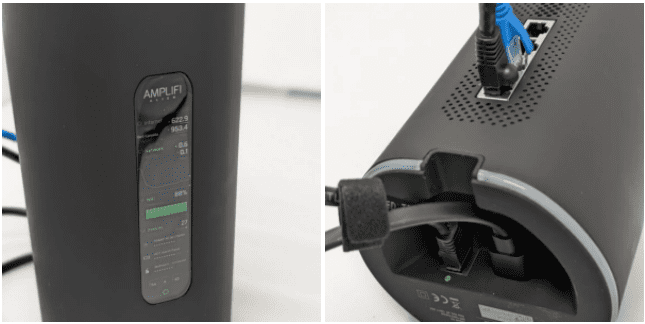 AmpliFi Alien brings the touchscreen era to your home network
A touchscreen is something that we've not seen on Wi-Fi routers from anyone else but AmpliFi. On the front touch display, users can configure, reboot and perform other management functions on the front of the device. The most frequent and common use of the display will likely be to check network status and speed but also to check the connection of various devices on the network. One of the most impressive uses for the device is actually to provide a visual indication of connection speeds and device connectivity.
Finding the AmpliFi Alien in stock might be a challenge
This might be an indication of exactly how popular this device had been, but we found it to be a bit of a game to try to find somewhere with the device in stock. You can purchase the device directly from AmpliFi on their website, but third parties other than dealers of other Ubiquiti equipment typically sell the device far more than MSRP. The MSRP for the device is for the router only $379USD/$469CAD and for the Router/Mesh Point Combo $699USD/$899CAD.
Is Alien AmpliFi worth it?
Overall we think that the AmpliFi Alien is the single best performing router we've ever tested to date. It truly is in a league of its own. That being said, the price makes it hard to recommend for everyone and even takes some enthusiasts to their limits.
If you want the absolute top-tier performing Wi-Fi 6 system, this has to be your pick as only the NetGear Orbi AX6000 series comes close. If having the absolute best performance isn't necessary, we think our other pick the Linksys Velop AX5400 might be an attractive balance between performance and price.