According to a recent survey conducted by LendingTree, the use of Buy Now Pay Later services like Klarna and Affirm has dramatically increased. Offerings from providers like Affirm and Klarna according to the survey have revealed that nearly one-third of all consumers have used this type of financing and are likely to use it again. Further, the survey indicated that younger consumers, seeking to make discretionary purchases choose to use such financing schemes to finance purchases at a staggeringly higher rate than older consumers.
Buy Now Pay Later encourages consumers to overspend
Per the data in the survey, over 60% of consumers who choose these financing schemes spend more on their purchases with online vendors than they otherwise would have if they had to make the purchase in full upfront. For businesses, this could be considered a win for those that offer these arrangements, and consumers that use the services might see it as a convenient way to disperse large purchases amid the pandemic. The full impact and use of this service might not yet be known.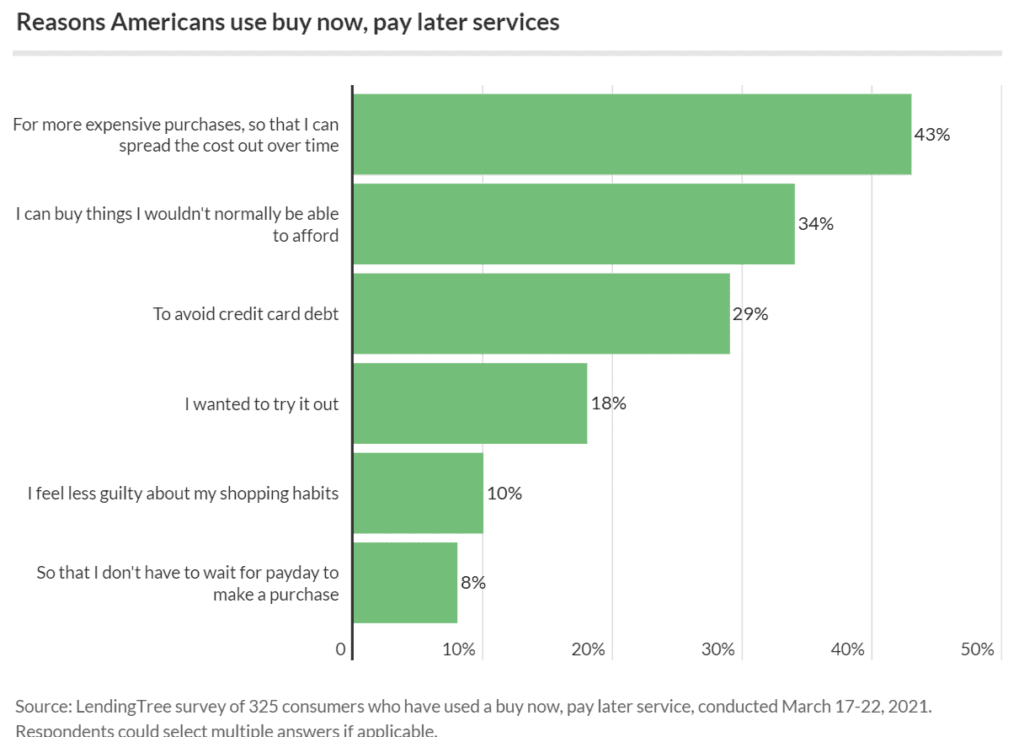 Late fees and interest charges becoming the norm
Consumers given the availability of these credit options means that consumers are making use of the ability to purchase new goods, they're also racking up additional fee(s) and costs commonly associated with alternative credit industries. According to the survey data, of the consumers that made use of the new options, 7 in 10 were charged additional fees or ended up paying extra for the service in some way. The data stated that 31% of consumers were charged a late fee, 23% were charged interest and 18% were charged both.
Younger consumers are more likely than others, spending more on discretionary purchases
Younger consumers are especially taking to these new options more commonly than many other demographics. 59% of the GenZ consumers that were surveyed in the data, showed that they had used this type of financing whereas compared to their GenX and baby boomer counterparts -less than 30% and 9% respectively had actually used it. What was concerning about the data, was that younger consumers tended to view this not as debt.
"We've seen that people tend to overspend with these loans, and Gen Z and millennials are likely to have far smaller financial margins for error than Gen X and boomers, so they're taking a bit more of a risk,"

LendingTree Chief Credit Analyst Matt Schulz
Alternative financing options are here to stay
What was clear from that data is that these new financing options are here to stay. Given the availability and convenience associated with these sorts of lending options, it's clear that these will replace other more traditional ones of the past. In addition to the growth as a result of the pandemic with online shopping, it's more likely that consumers will continue to turn to these alternatives instead of single-store credit cards or credit lines of the past.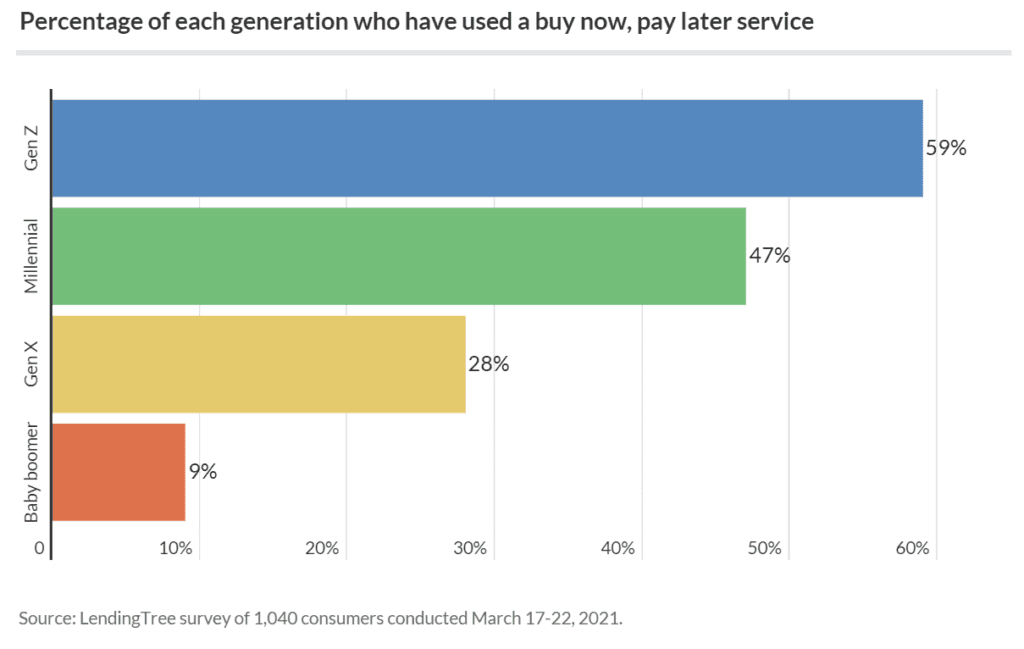 For more information on the survey, see here: LendingTree