Coming to a desktop and mobile device near you soon, Google has announced a variety of major updates to their popular email platform rolling out to all users by the end of Q2 2022. The updates Google announced in a blog post originally only indicated that it would impact Google Workspace users but unsurprisingly has since changed.
The update to the popular email platform included primarily a new integrated view for all messages that more readily integrates applications like GMail, Google Chat, Google Meet all in one unified location.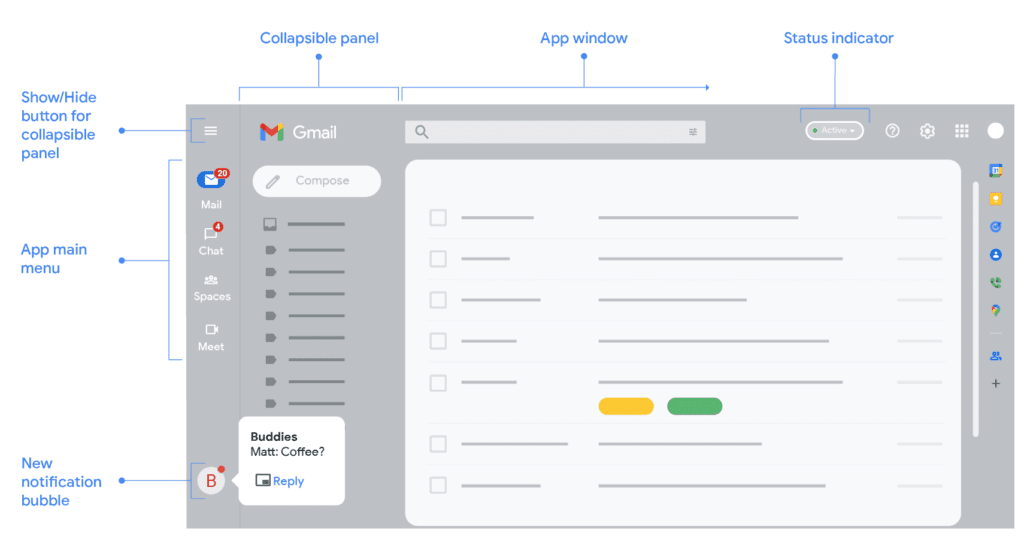 Highlights of Gmail update include:
Multiple Google Apps integrated into the Gmail main menu
New Bubble notifications for new chats and spaces from inside the main notification panel
Chat previews are enabled inside main Gmail panel, allowing faster replies
All Google collaboration systems are integrated in one place (except Duo)
Users that are either looking forward to or dreading the new layout have a fairly limited time before this new layout (integrated layout) becomes the only view available:
Rapid Release domains: Gradual rollout (up to 15 days for feature visibility) starting on February 11, 2022
Scheduled Release domains: Extended rollout (potentially longer than 15 days for feature visibility starting on February 28, 2022
Google Workspace Individual users and those with personal Google accounts, beginning on February 11, 2022
According to Google, by the end of June 2022, users will not have the option to revert back to the previous Gmail experience.