Almost everyone has multiple power strips in their home, and little attention is paid to them despite the valuable devices they protect. Austere VII Series power is the latest power bar from Austere (a manufacturer of premium tier audio, video, and power accessories). We took a look to answer a few nagging questions: Is it worth spending over $200 on a power strip? Are you paying for function or just fancy packaging? And is the Austere VII series worth the extra money? Read on.
Premium feel and premium materials
The first thing you're likely to notice before you even manage to get the device out of the box is that it looks and feels premium. Compared to many other power strips on the market, the Austere VII Series is easily the most well packaged. From the moment you open the box, you feel like you're opening a fancy piece of high-end jewelry.
The device itself stands out from the packaging and features solid aluminum construction, with the cable being flexible "woven armour" (Kevlar sheath) that is truly flexible. The power connection is a reliable, flat, angled connector that fits snugly behind tv stands or wall-mounted units.
The Austere VII Series comes in two variants, a six-outlet and an eight outlet option. Both variants feature the same design mould, with the latter featuring an additional two outlets. Similarly, each device features 2 USB-A and 3 USB-C connections with a USB-45WPD connection.
Home theatre power that isn't just fluff
Many consumers believe that once you've bought a power strip, you've invested in protection that's good for the life of the device you've connected to it. While that is entirely possible, it does go unnoticed that each power strip you buy has a joule rating that indicates the amount of energy it can protect your devices from. Unfortunately, depending on where you live, the life of your power bar can be relatively short.
Austere's VII Series bar has a 4,000-joule rating that, once it's exhausted, triggers a light on the device to indicate it's been depleted. Arguably, this is one of the most distinctive features of this device that makes it a definite top-contender for protection. We compared this against several other similar power strips like the Isobar 10-Outlet Home/Business Theater Surge Protector, and we found that the Austere offered better overall protection.
Beyond joules, the Austere VII Series offers flameless MOV (state-of-the-art fire protection) and a 15AMP circuit breaker. While not directly protecting in the same way, the strip also includes isolated outlet filtration to isolate individual devices from EMI/RFI interference to preserve audio and video quality.
More than a power strip
In today's modern living rooms, all sorts of devices use different types of USB driver power adapters. From Roku's, Amazon Fire TV stick to our pick, the Chromecast with Google TV; finding space for all of those streaming device power adapters can be a challenge.
The VII Series offers five included USB-type power connectors. Two USB-A and three USB Type-C connectors with one of the ports featuring USB-C 45W (continuous) power delivery. Each of the ports independently delivers 2.4 amps of power and supports protection for low-voltage devices and capabilities for rapid charging.
We would prefer to have a more significant number of standard power connectors on the top of the device to allow the connection of more standard devices, along with more considerable space between each receptacle.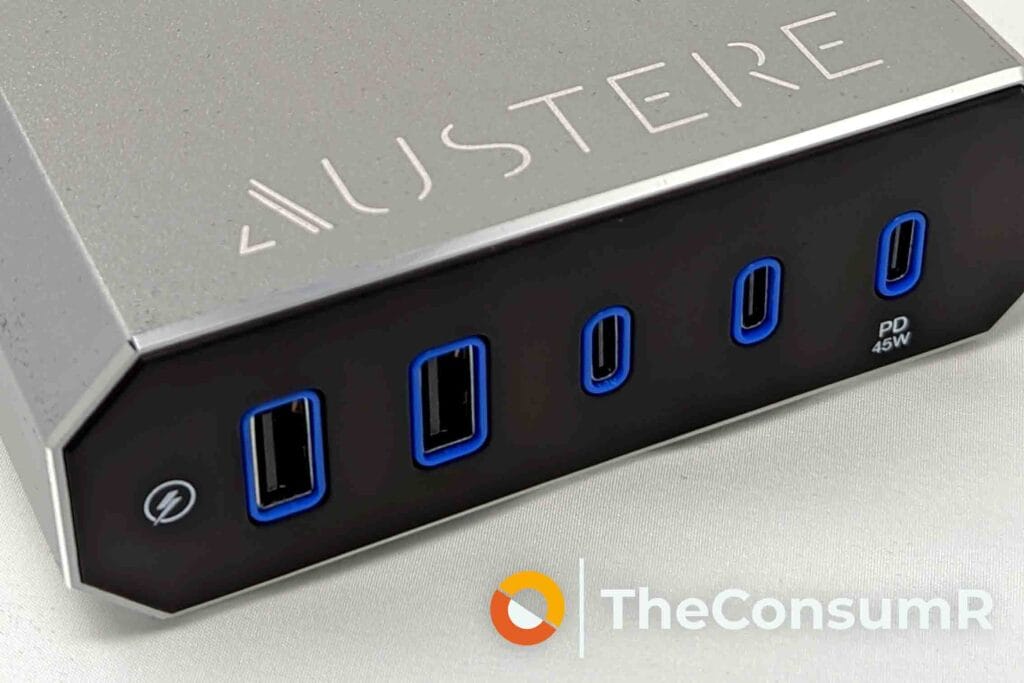 It's worth the money for your home theatre
So overall, we think that the VII Series power strip is a must-buy, especially if you've got many valuable home theatre gadgets. While the price puts the VII Series in the top tier of power strips, we looked at several other lesser-priced power strips that compromised on protection for value. If you're considering the VII series for applications other than home theatre, it might be a bit overkill.
The Austere VII series can be purchased from retailers like Crutchfield Electronics, Amazon US, Amazon Canada, Visions Electronics, and directly from Austere for $199 USD for the six-outlet version and $229 USD for the eight outlet version.