To introduce something into the generally overcrowded earbud space is a challenge even for the largest incumbents. While Creative isn't new to the space, the Outlier Air V3 are in-ear earbuds that are truly delivering exceptionally good value for those looking to balance performance with price. Creative is making their mark and what we've seen so far is getting us excited.
Creative Outlier Air V3: What do they sound like?
Compared to some of our recent reviews of in-ear ears buds like the LinearFlux Hypersonic 360, out of the box, the sound quality is a step up. The base performance is muted, but the mid and high tones perform exceptionally well. To get an extra hit of bass or treble performance, we recommend using the Creative app to make custom adjustments– they make a major difference. In our testing, we found that we preferred the V3's over every other similarly priced set.
If you're an audio buff and want that bit extra kick in performance, you might want to try the SXFI (Super X-Fi) feature. SXFI lets you make a virtual map of your ears that tune the audio to your specific ear construction. This won't be beneficial if you're using online streaming services, but if you're an audio buff there is a good chance that you aren't.
Creative Outlier Air V3: What's the battery life?
One of the most common nuisances that one can run into while using wireless ears buds is obviously battery life. Most of the devices we've tested come with some sort of battery pack-style charging case to keep the headphones always charged. What is frustrating is that few cases have enough power to keep the headphones charged for more than one cycle and most use legacy charging connectors to cut costs.
The Creative Outlier Air V3 earbuds manage to get almost everything right. The charger is a "sled" style case that keeps the headphones secured while charging. While utilizing the case, most users can get around 38-40 hours of use on a single charge. This battery life is based on medium-volume with active noise cancellation and ambient mode off.
The battery pack is charged using USB-C type connectors and has charge indicator lights on the exterior of the case.
Creative Outlier Air V3: Worth the upgrade from V2?
Well, all in all, over the Creative Outlier Air V2's these are a pretty welcome upgrade. Compared to their predecessors, the V3's are lighter, have better quality Bluetooth profiles and are the first Outlier model to have active noise cancellation along with active ambient modes. The V2 does feature slightly better battery life on the earbuds themselves, but overall the battery life is otherwise similar taking into consideration the charging case.
Lastly, the bio-cellulose drivers edge forward the audio quality compared to the V2's graphene-based drivers. The mid-tones are much more pleasant to listen to, at the expense of more well-defined bass.
Creative Outlier Air V3: Is the price worth it?
The Creative Outlier Air V3 earbuds are a complete bargain when compared to similar devices in the same category. In this category, it's not uncommon to have to make a lot of sacrifices when you spend under $100. Typical sacrifices in the sub-100 category are active noise cancellation, modern Bluetooth audio profiles, IP sweat resistance, USB-C and integration with digital assistants. The Creative Outlier Air V3's include every single feature and a few unexpected ones. So all in all, we think it's a great value and it's the reason why it's our TheConsumR Editor's Choice Award Winner for Best Value in Wireless Earbuds.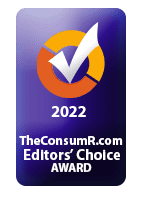 Creative Outlier Air V3 in-ear eardbuds are an Editors' Choice Award Winner for Best Value Wireless Earbuds.

TheConsumR.com, Editors' Choice Committee